A ranking of 23 Chinese (and Taiwanese and Hong Kong-ese?) cities, rice terraces, mountains, towns and regions in one comprehensive, totally biased list! I explored China (and Taipei and HK) alone, with friends, with my boyfriend, on bike, by car, by taxi, by plane, by ferry, by bus, by rickshaw, on foot, carrying everything, carrying nothing at all, swearing at strangers, crying in strangers' arms, loving and hating. I enjoyed experiences that I'll never forget and developed a true love for China despite the hundreds of problems one might encounter there as a dark-skinned foreigner. It's a messy place but it's unlike anywhere else on the planet, I promise you.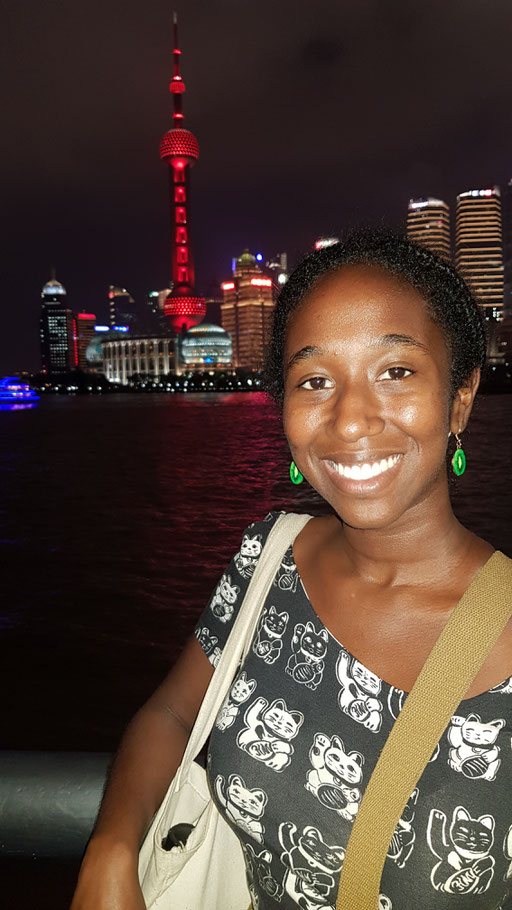 23. Macau 澳門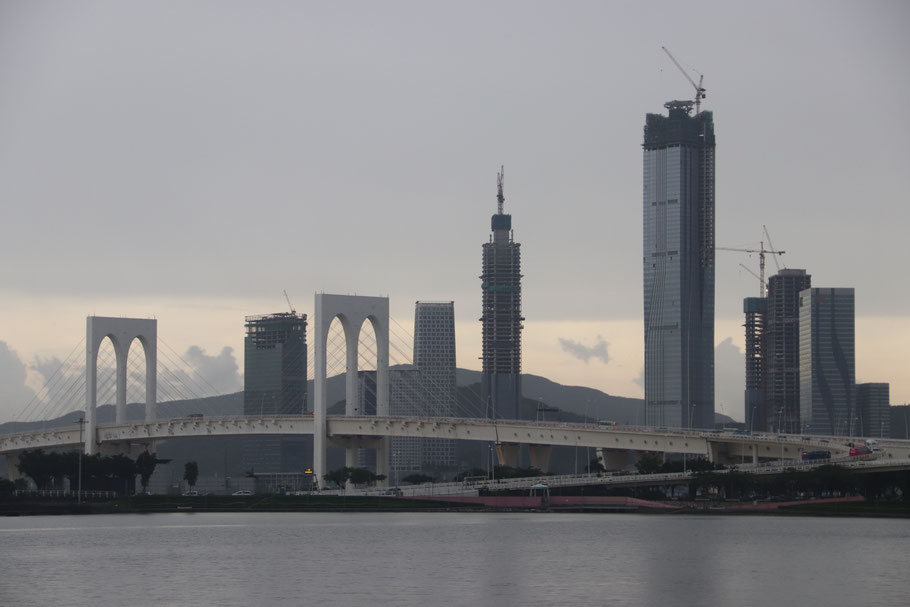 Macau is is one of China's Special Administrative Regions (aka kinda not really China). It's accessible from Hong Kong by (a very expensive) ferry, which is how my boyfriend, Tash, and I got there. We only visited Macau for a few hours and I was unimpressed as 1) it is known for its casinos which don't interest me at all and 2) I was SICK from the worst period I have ever had. The whole day was just a write-off for me and unfortunately I ruined Tash's day too. We didn't do much except walk around this strange but intriguing place, which mostly looked like any coastal city in Portugal but with Chinese signs and people. Tash and I ate a (very expensive) meal of African chicken, which is one of Macau's famed dishes (Portugal --> colonisers --> Angola --> Macau). It was nice but I've tasted much better African chicken. I liked the aesthetics of Macau's streets but it was just a dead place. Barely any people and nothing to do except look at cathedrals. We had banging pastel de natas and there was a nice sunset though. Saw lots of giant snails. Oh and we did spend 10 minutes in a casino. I got told off for taking a picture inside and Tash lost 10rmb in about 4 seconds so we left out of embarrassment.
22. Xiapu 霞浦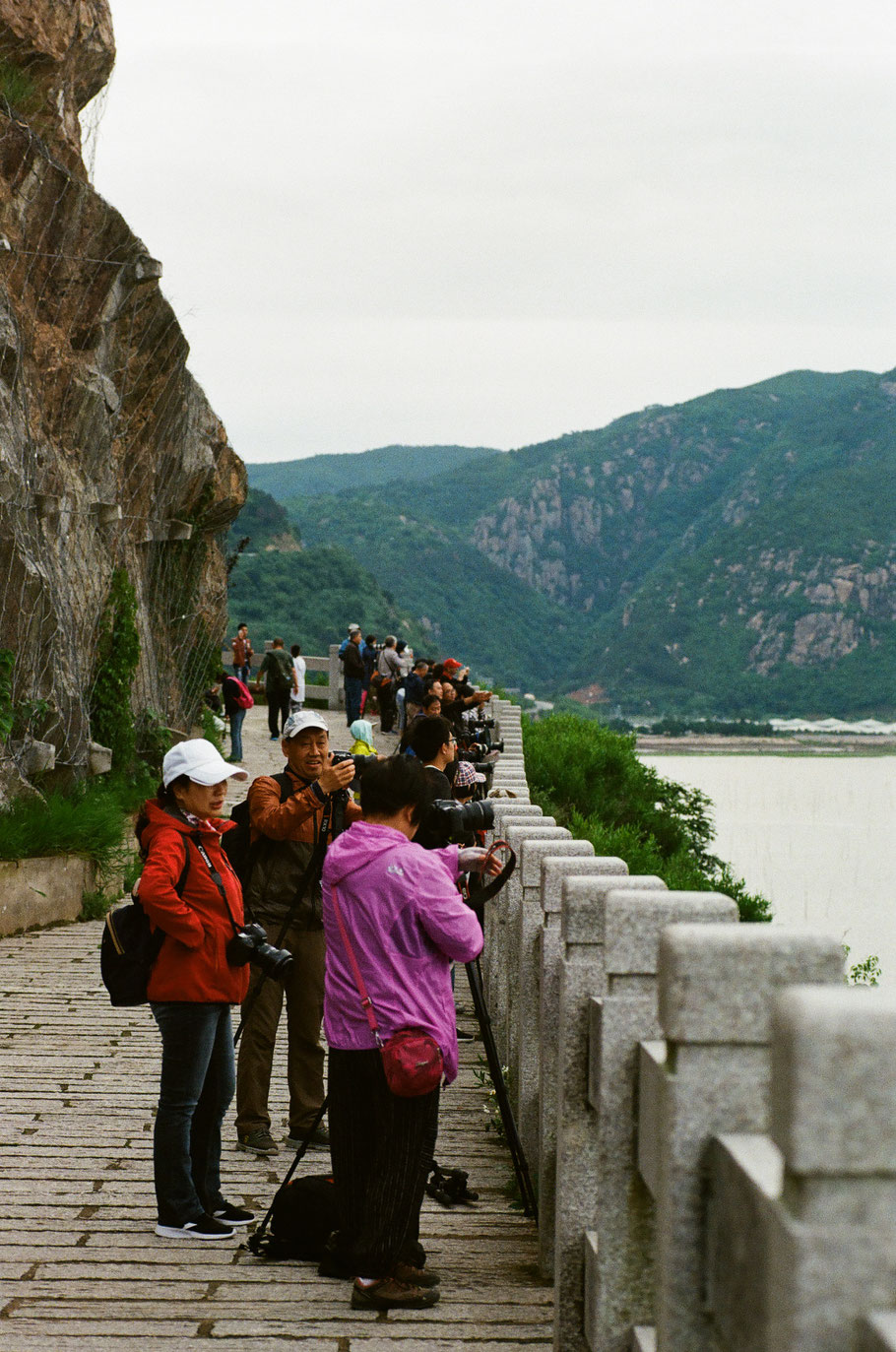 Xiapu would've been the deadest place on this list if it wasn't for the truly wonderful people my friend, Emmy, and I met that day. Xiapu is a coastal town in the Fujian province and we got a train there for an overnight trip to capture the sunrise over the water in the morning but after waking up at 4am to walk to the beach, we saw no sun at all. At alllllllllll. The dark blue clouds simply became white clouds. We went back to sleep and left Xiapu. HOWEVER, on the previous day, we met the loveliest two ladies in all of China, one of whom could speak a little English. We spoke via phone translators a lot though. They gave us a ride in their car to a restaurant, and one of the ladies even paid for our food! I mean, I hated the food as everything on our table came from the sea, but really appreciated her kindness. We insisted on paying but she wasn't having it. The two ladies then took us for herbal jelly with honey (not a fan) and waffles (a fan) after. They showed us unbelievable kindness and my friend and I were just blown away by it. They made the whole trip.
21. Leshan 乐山市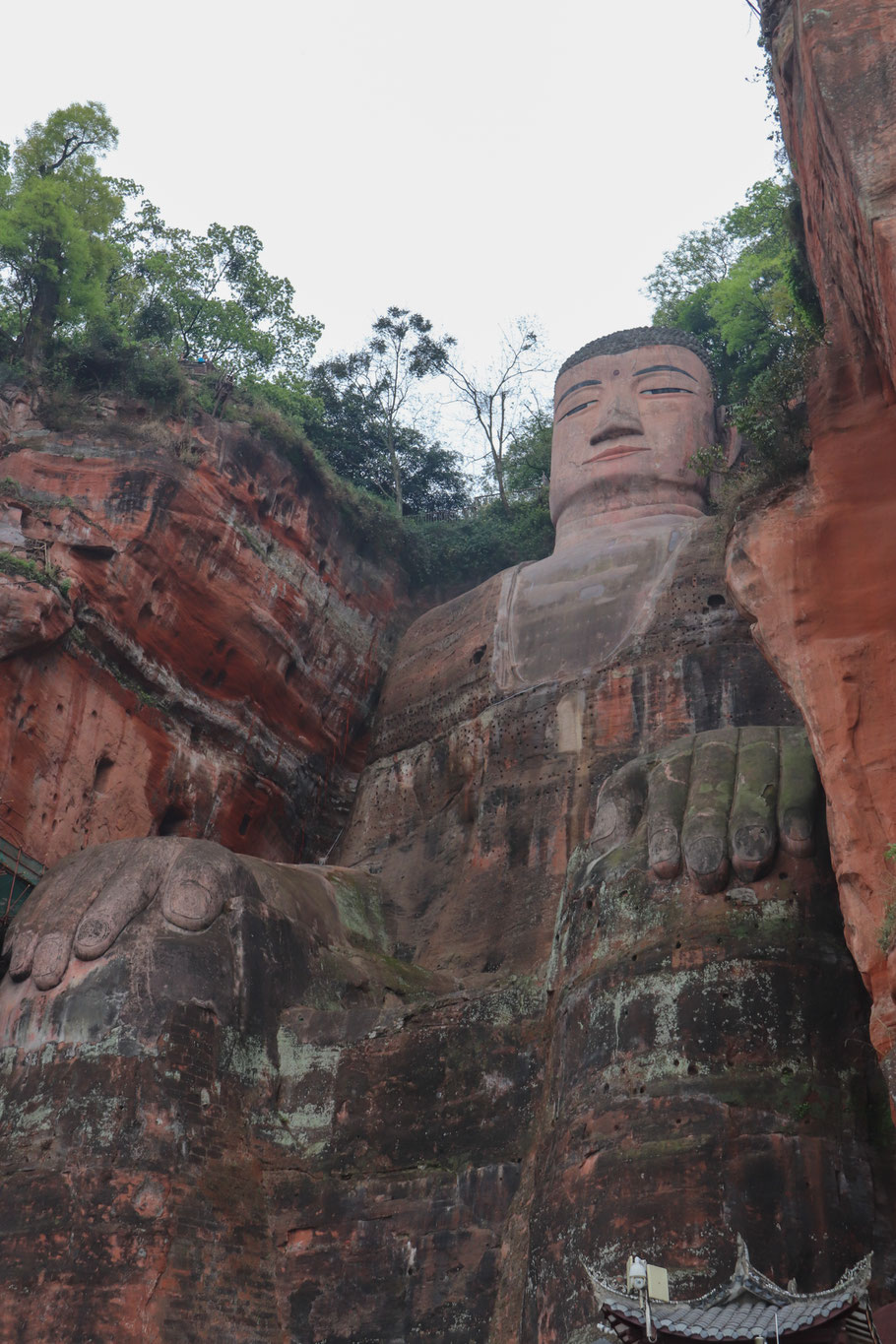 Home of the giant Buddha carved into the rock. Went here with my friends, Shamira and Camisha, as a half-day thing from Chengdu via train and RUSHED to see this beautiful Buddha. We were catching our flight back to Fuzhou from Chengdu that night so time was of the essence! We bought our return tickets from Chengdu to Leshan and my bougie friends treated themselves to First Class tickets while I, a cheapskate, resigned myself to standard seats. I ended up nearly missing our stop and only realised we were at Leshan when I heard knocking on the window next to my seat and looked up to see Shamira and Camisha shouting at me to get off the train. I panicked and left my beloved water bottle but got off the train just in time. Lord. The stress continues, keep reading: we then took a 45 minute taxi to the site, realised we didn't have enough time to climb to the top of the Buddha's head (a 2 hour climb!), tried to get on a boat to see the whole figure from the water, was told the boat wouldn't leave until there were 40 people onboard, realised we had ONE HOUR until we had to start going back to the train station to return to Chengdu in time to catch our flight, tried to negotiate in Chinese with the ticket lady (not me lol), suddenly found out there were now enough people onboard, got onboard, saw and photographed big Buddha for 20 minutes, returned to land, got a taxi and got our train JUST IN TIME to head back to Chengdu!! Stress.
20. Shenzhen 深圳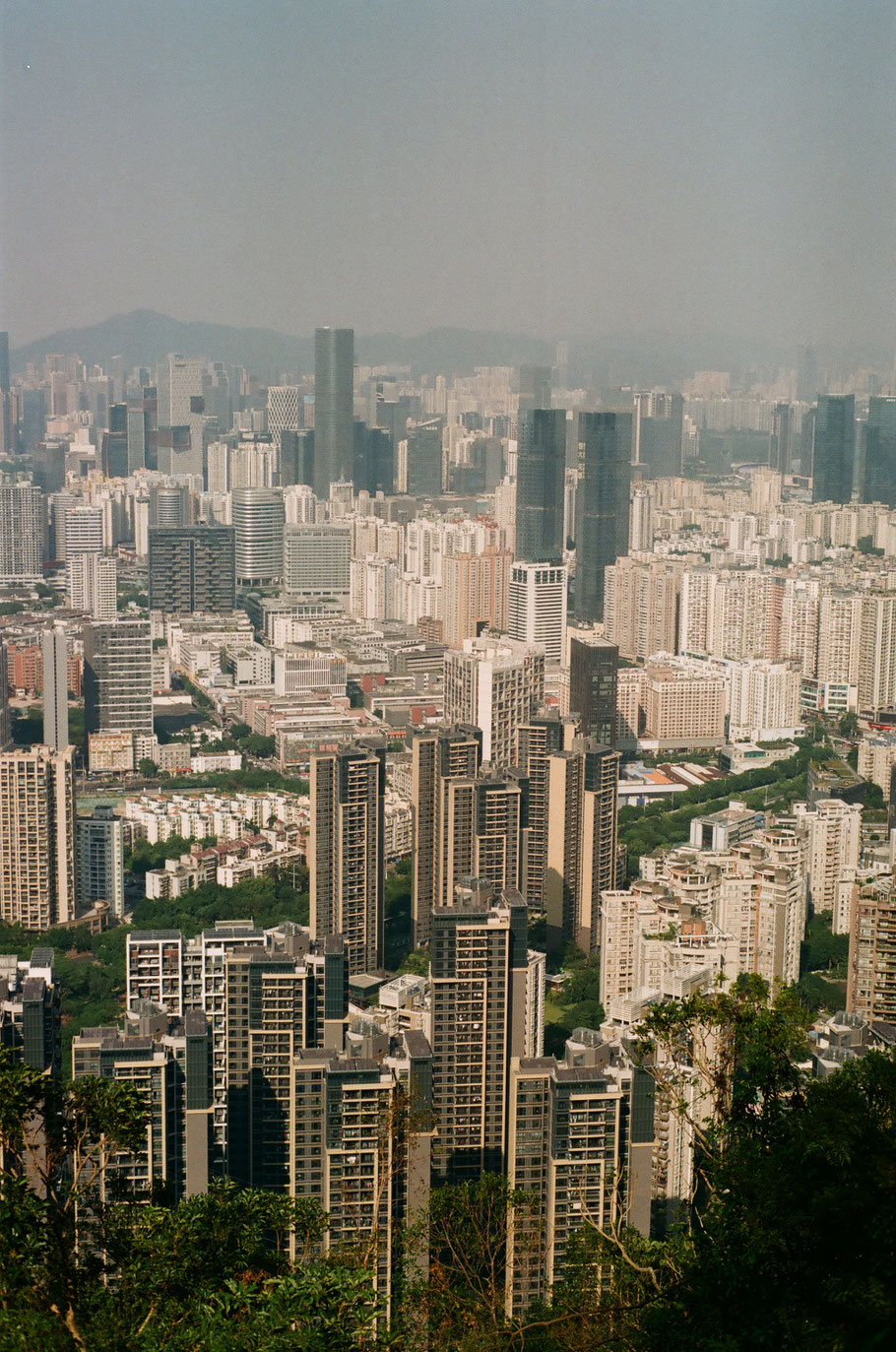 Shenzhen was my first holiday in China! It's a megacity in the Guangdong province and it's as close to Hong Kong as you can get on the mainland. I went with a group of about 10 people and we all got to know each other pretty well, so it was a great bonding holiday. However, we booked our trains and accommodation about five days before we left, during China's Golden Week AKA its anniversary of the founding of the Communist government, when literally everyone in the country is travelling. As such, we ended up booking the worst hostel in the city. Our dorm room had bunks, came with a resident gecko and a young woman who seemed to be living there semi-permanently, who left a giant poop in the squat toilet which DID NOT have a flush. It had a big bucket which you had to fill up with water, then tip that water into the toilet to 'flush' the waste away. I was constipated for two days because I couldn't face pooping, I'm not joking. And when I did...let's just say it was traumatic. We started taking trips to the nearby mall each morning with the sole purpose of having pleasanter poops. So yeah the accommodation was a big no and there was also an N word incident (sigh) but we ate some good western food and experienced one of China's newest megacities. It was literally just a few villages about 20 years ago and is now absolutely sprawling and full of opportunity but as a result, it was just a bit soulless. Not culturally rich compared to many other places in China. Though on our first night we did accidentally walk into a restaurant which sold nothing but snake cooked in myriad ways. When we left we realised the live snake 'farm' was right next door. A bizarre first jump into travelling in China.
19. Youxi 尤溪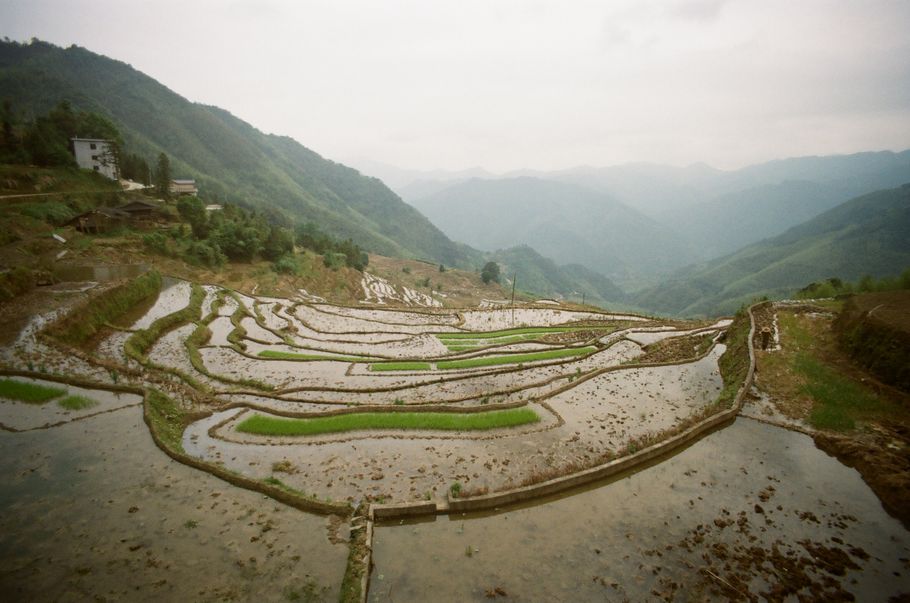 Youxi (yo-shee) is a town in the Fujian province which is home to rice terraces. At the time I was convinced I wouldn't have enough time to see one of the two big beautiful rice terraces in China (Longsheng near Guilin/Yuanyang near Kunming) so I decided to see some less impressive terraces closer to home. I went with a Chinese friend, Ella, who helped soooooo much with communication. I don't know why I thought I'd have an easy day trip going into the Fujian countryside as a foreign black woman who speaks basically twenty words of Chinese. Ella made the whole day more enjoyable (except when she threw up from being carsick). We hired a taxi driver to be our all-day guide for about £30 equivalent each, which I thought was amazing. He drove us for hours, took photos of us and told us about each place we visited. The terraces were definitely cool but not spectacular as we came at the wrong time of the year. However, we also visited an ancient village called Gei Feng Cun which was beautiful and had some very friendly residents who spent time with us and brought their cute dogs with them. Overall, an enjoyable but not amazing place.
18. Hangzhou 杭州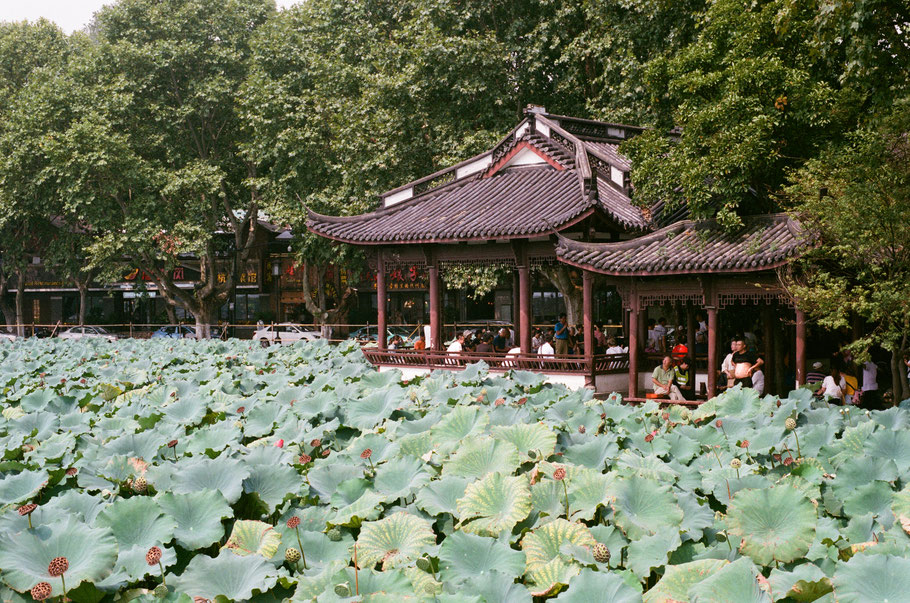 Hangzhou is a world-renowned city in the Zhejiang province, about one hour from Shanghai. Beautiful West Lake resides here and I cycled and walked around it with two extremely heavy bags slung over me, SWEATING. It was too humid. I enjoyed the scenery and the cycling and the old couple dancing to live singing by the water but the treatment I received here from Chinese people was nearly the worst I've experienced in China. And I was really expecting more after having just left Shanghai and being told several times how wonderful and relatively wordly Hangzhou was. Yet people would not leave me the fuck alone. I am talking about an entire day of rude staring and people taking pictures of me. I actually don't get photographed too often in Fuzhou so when it does happen, I get really angry. Just getting the metro from the train station to West Lake, before even having stepped foot on Hangzhou's pavements, a gaggle of women got onto the carriage, took one look at me and started getting phones out to photograph and video me. Everything about my body language was saying no. I glared at them and moved myself away. They kept talking about me and looking at me. One woman got her phone out to take yet another picture of me and I put my hand in front of my face and told her to stop. She wasn't even going to, her friend had to push her phone down. I was shaking with rage. That was just the start of the day. This continued all fucking day and really ruined the city for me. Later, I got to use 'zou kai' (go away) for the first time when a man took a video of me just sitting down trying to cool myself. GOD, I wanted to smack about 100 people that day. Fuck them all, they ruined what was otherwise a very pleasant place.
17. Guangzhou 广州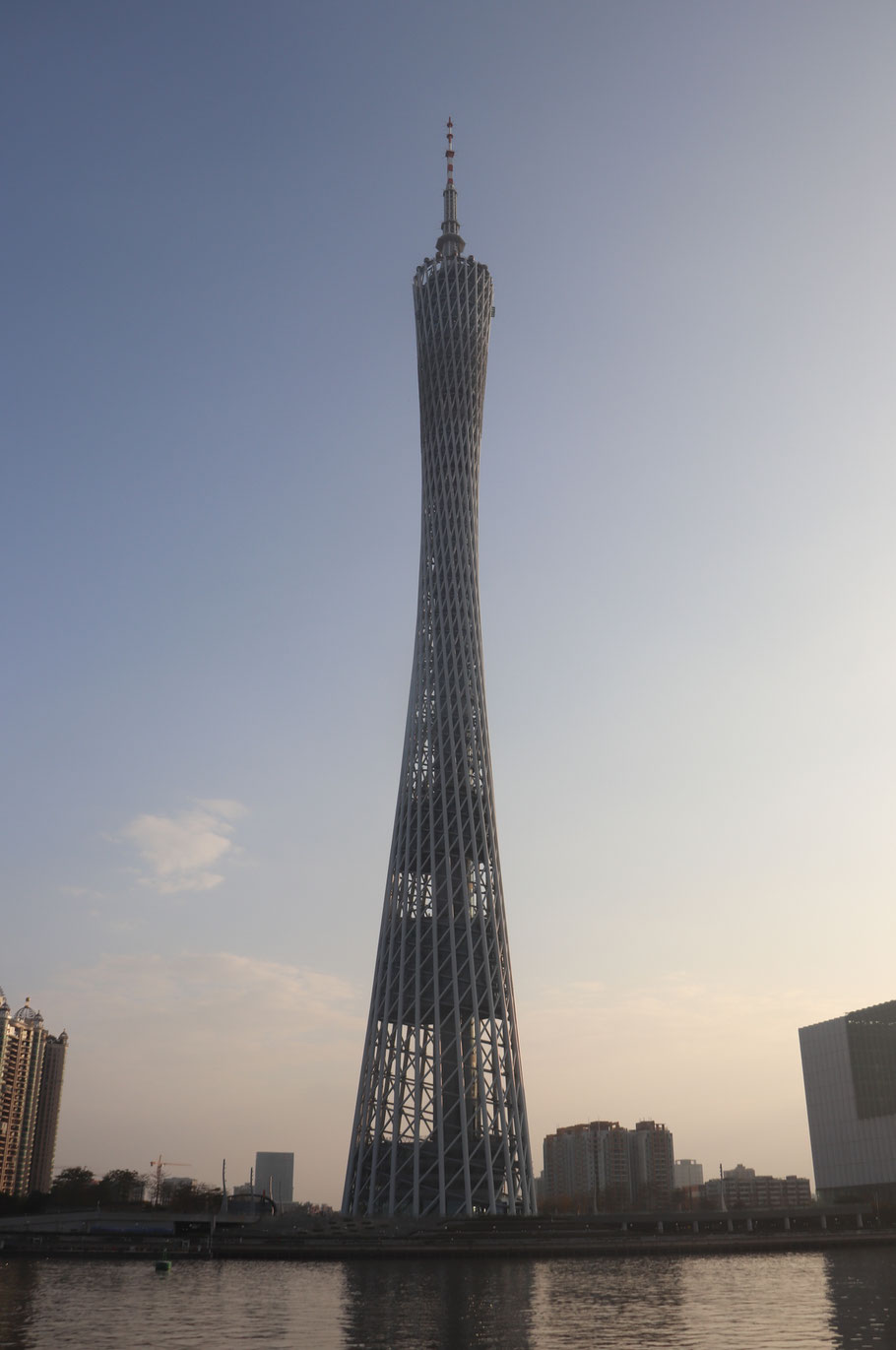 Guangzhou is BIGGGGGG. It's the capital of Guangdong province, in the South. Cantonese (the language you hear in Hong Kong and in most Chinese restaurants in Britain) is spoken widely here, rather than Mandarin. I came here during Chinese New Year and enjoyed the city decorated in red and full of celebratory people. There were flowers everywhere, a Guangzhou-specific CNY tradition, and I enjoyed lots of beautiful displays. I saw my first and last half-black, half-Chinese baby (blackanese?) here and that made me absurdly happy. Nothing I ate really impressed me. But the architecture did. Good god, the buildings in Guangzhou are immense. Really stunning temples and skyscrapers. I visited a Xinjiang restaurant (western Chinese, Muslim) and received the most hostile treatment I've ever had anywhere. I was pissed off with myself for still going ahead and buying food from the people who gave me the dirtiest looks and very reluctantly served me even though there was no-one else there. An Indian man later asked for a picture with me and when I said no, called after his friend, "THE AFRICAN SAID NO HAHAHA." Imbecile. I wonder if he's from the same part of India as my grandparents. A slightly insane man from Ningxia cornered me in the hotel waiting area and livestreamed himself asking me random questions, moving towards me every now and again to get some unflattering close ups. He seemed relatively innocent but eventually I was irritated enough to leave for the airport early.
16. Guilin 桂林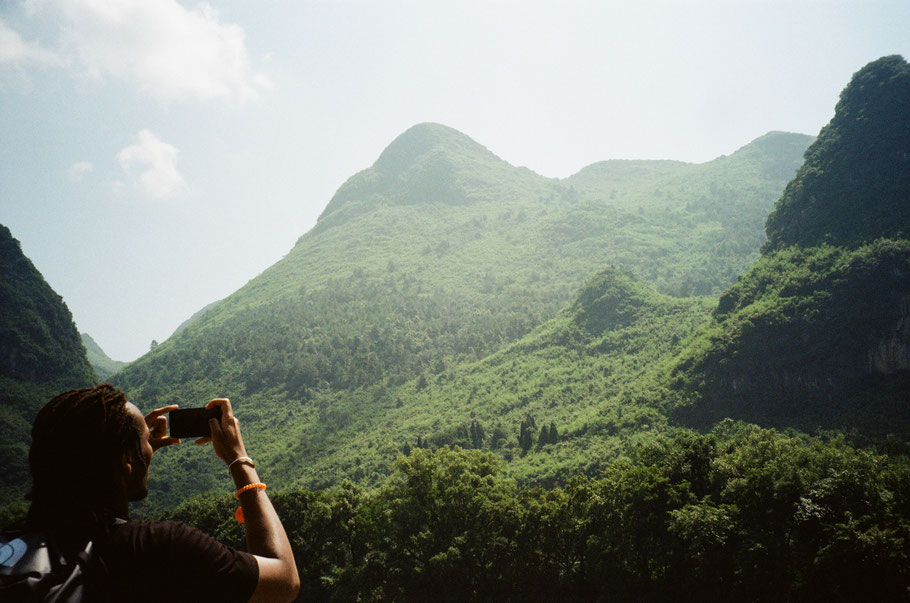 I'll tell anyone that Guilin has the friendliest people I've met anywhere in China (except maybe Fuzhou, where I lived). People still stared but most of them said HELLO! and smiled at me, which I rarely got in other Chinese cities. I visited Guilin twice but each time only as a stopping point on my way to somewhere else. The first time I was with my boyfriend and we used Guilin as a starting point for our four-hour ferry cruise journey down the Li river to Yangshuo, which is what you can see pictured above. The second time I stopped here, I was on my way alone to another of Guangxi province's wonders - the Longsheng rice terraces. With my boyfriend, we explored the night street market, some pagodas, ate some liver, cringed away from barbecued spiders and crickets, and got my boyfriend some freshly-cooked alligator to eat (the stall had one live one, one dead one). Guilin was lovely and would be higher on this list if we'd managed to make it to Elephant Trunk Hill before it closed. It doesn't really deserve place number sixteen.
15. Wuyishan 武夷山
Whew! The Wuyi mountains are lush and fertile and green. They are in the north of the Fujian province, so not far from Fuzhou. I went with a big group of people and really enjoyed myself. The way the blue/green river bends through the rounded mountains is just very pleasing to my eye. I kicked myself all day for not bringing my wide-angle film lens but the true beauty of that place is preserved in my mind. Some friends and I attempted an insanely steep climb on the second day and let's just say it nearly took out half of our group. It felt great to make it to the top though. We also found a bakery that sold brownies and that's a true win in China.
14. Yongtai 永泰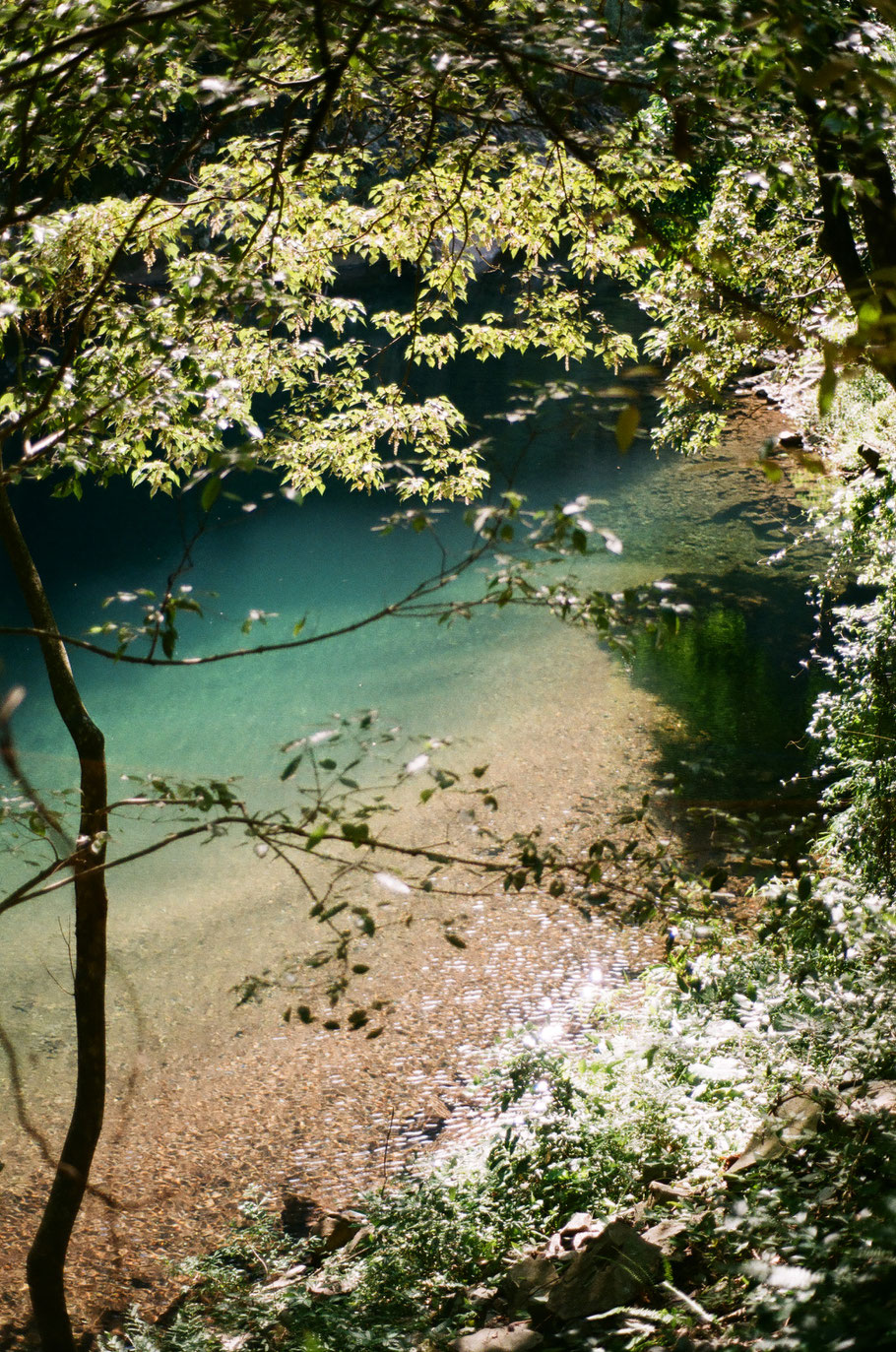 Yong Tai is a 20-minute train ride from Fuzhou or an hour's car ride. It's such a relief from busy Fuzhou's constant noise. It's full of beautiful blue-green streams, hidden temples, cool nice-smelling air, mountains and small waterfalls. I've been twice and found exactly what I was looking for both times. Peace. Also the first time my friends and I went we stayed in a hotel that looked gorgeous from the outside but on the inside felt like the Overlook Hotel from The Shining. Eerily empty. Sterile. Quiet. Genuinely lovely but also terrifying in China where you're constantly surrounded by noise and people. We had an incredible time at the hotel's hot springs, which we visited at night. Cold mountain air combined with 30-40 degree water was just *chef's kiss*. It was the first of about five hot springs trips throughout my year in China and it became one of my greatest pleasures there.
13. Shanghai 上海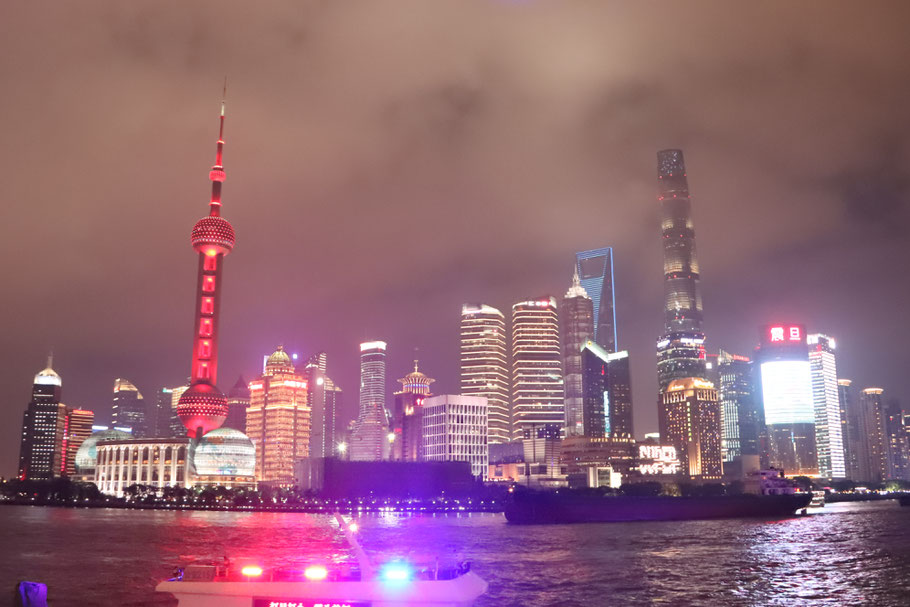 I definitely don't like Shanghai as much as a lot of other people I know but I appreciate its Western, distinctly European feel. The food here is incredible (the best English pies, xiaolongbao and barbecue pork buns) but the Bund is overrated, in my opinion. Tianzifang, the art district in the French Concession, is gorgeous – full of art, nice food and cat cafes. One thing I will say about Shanghai is that it's a lot more accepting of people who look different than the rest of China. HOWEVER, don't get it twisted, people were still popping their eyeballs at me and asking for pictures here. If you're white, no-one will look twice at you. If you're black, you'll get about 70% less attention than you would elsewhere but you still won't feel truly normal. It was only in Shanghai that I could see a Chinese woman with a (presumably adopted) black baby girl. Fuzhou could never!
12. Dali 大理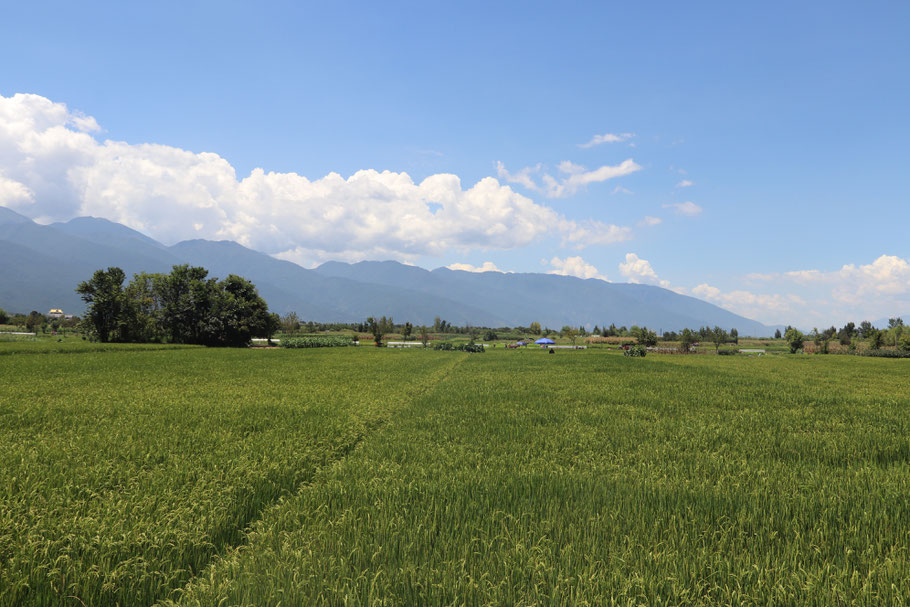 A jewel of the Yunnan province. I CANNOT say this city name without hearing Pitbull shouting 'DALE!' in my head. I saw Dali (DALE!) for a day and spent three hours cycling around under the blazing sun fearing an early death from skin cancer. But the sky was BLUE and clear and I felt my limbs working at full capacity and felt good about myself. Dali is famous for being close to Erhai Lake, which is a huge body of water with many villages and towns on its shores. I cycled around the lake and into some villages, enjoying the lovely buildings decorated with paintings. I cycled to Dali's ancient town, which is full of gorgeous buildings and western food (I BOUGHT REALLY GOOD CARROT CAKE THERE AND IT ROCKED MY WORLD!) and art and temples. I spent a long time just wandering around trying not to feel like a circus animal on display. I also stumbled across an incredible photography gallery that inspired me to get more of my work exhibited soon. 
11. Zhangjiajie 张家界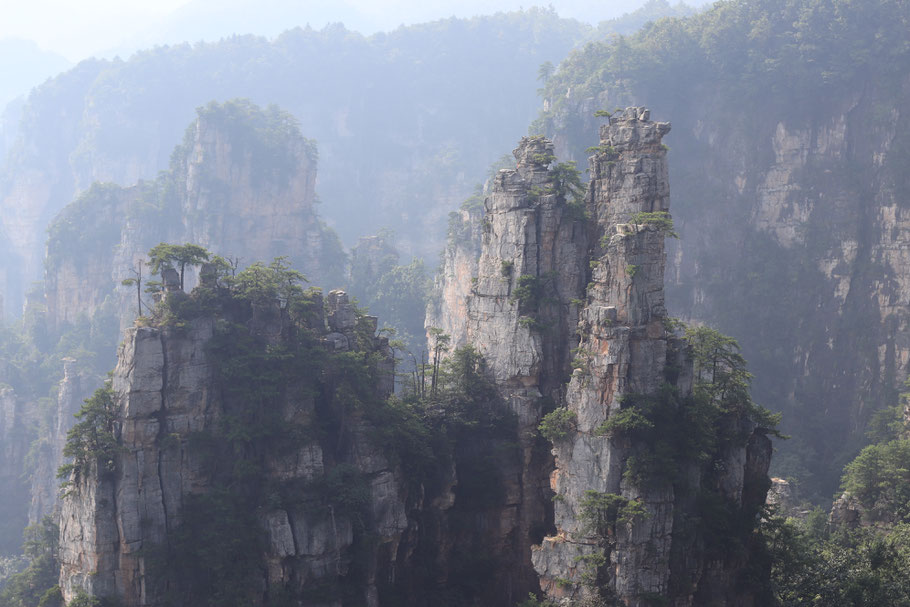 What a mouthful of a name. Try saying it like 'jang - jyah - jyeh'. Otherwise known as the Avatar mountains, inspiration to James Cameron when he was creating Pandora in the movie. And YES I watched Avatar in my hotel room while I was near the Avatar mountains. Zhangjiajie is in the Hunan province and I visited during August when it was HUMID AF! I spent three days climbing mountains in 34 degree heat with 90% humidity. It was mad. This place was massive and confusing and EXPENSIVE. There are three tourist spots: Zhangjiajie National Forest Park (where the Avatar mountains are), Tianmen Mountain (where the Stairway to Heaven AKA the big hole in the big rock is) and the Grand Canyon (where the glass bridge is). My ticket for the forest park cost 228rmb and that didn't include Tianmen Mountain or the Grand Canyon. If I visited all three and used cable cars and transport between each, I would've easily spent around 800/900rmb which is about £100. I was like nah. So I used my 228rmb ticket well and just visited different parts of the forest park for three days: Yellow Stone Village, Gold Whip Stream and Tianzi Mountain (hilariously I ran out of time to see the actual Avatar mountains). Spent at least an extra 200rmb on cable cars and elevators that are built into mountains. Resisted the urge to fight one thousand people pointing at me, nudging their husbands to look at me and endlessly staring at me and saying 'Fei zhou' which means 'Africa'. Not even African. They were all dumb and wrong and infuriating. I ran away from smartphones pulled up in front of me. One child pointed at me and said 'Hóuzi' which means 'monkey' and I just thought wooooooooooooooooooow I cannot wait to leave this country (despite all the beauty I was seeing around me). Approximately ONE person asked me if I was from Africa and gave me a chance to correct her. I felt happiest when there was no-one around. I walked tens of thousands of steps and really enjoyed the hundreds of wild monkeys grabbing people's food and the incredible, truly ancient scenery. I will never see anywhere like Zhangjiajie again. I just wish there had been no-one else there but me and people who aren't ignorant and/or racist.
10. Chengdu 成都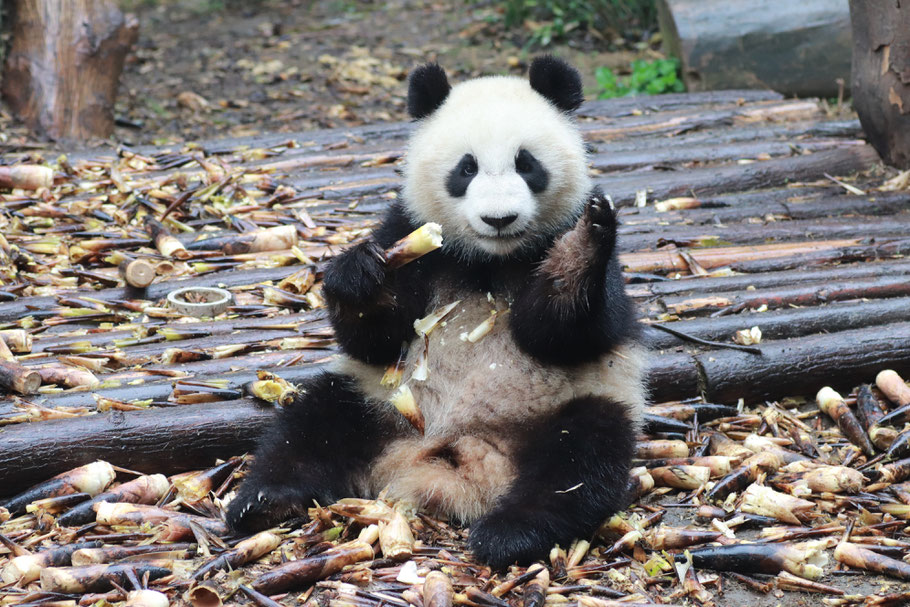 This dreary grey-skied city ended up being one of my Chinese faves. I visited with two friends, Camisha and Shamira, to see the giant pandas at the famous Sichuan base. We also went to Chengdu to eat hotpot and we enjoyed one of the best meals of our lives. Sichuan province is where hotpot originated and dear GOD did Chengdu deliver. We got it medium spicy and the peppercorns tingled and numbed our lips and tongues but not so much that we couldn't enjoy the flavours. It was just divine. There were no noodles though, which upset me greatly. We met other black people there, including a Sierra Leonean (like my mum) and that lifted my soul considerably. A woman asked Shamira (who is Canadian) where she's from and, in Chinese, she told her 'France', just for shits and gigs. The woman told Shamira 'no you can't be'. Like loooool ok. But overall, we weren't harassed that much and Chengdu showed us what a sprawling, clean, orderly Chinese city can be. ALSO the giant pandas nearly made me cry with happiness. I will never be able to explain how precious those creatures are. I would go back to see them one hundred times.
9. Xiamen 厦门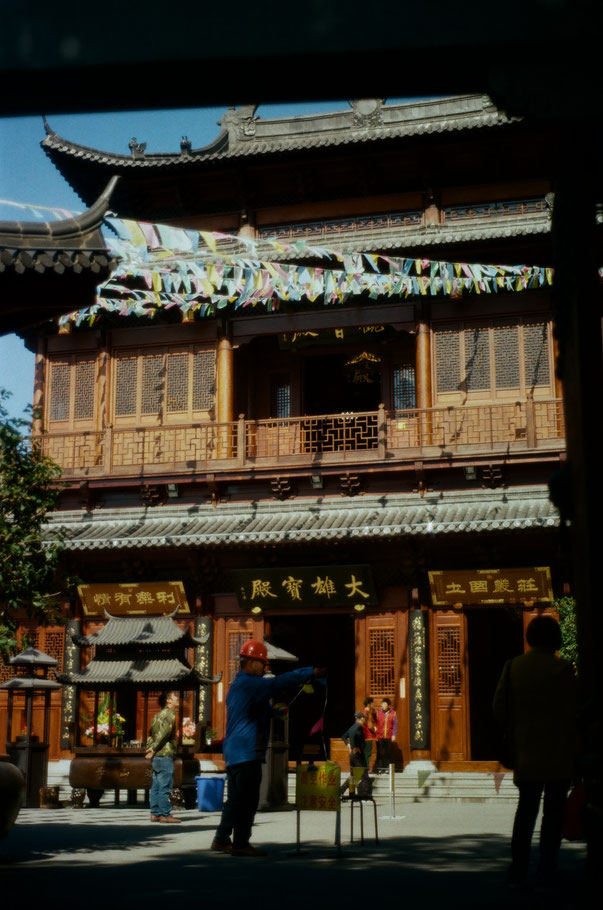 Oh, this glorious city! Xiamen is truly beautiful, peaceful and its architecture is one of the very few good consequences of European colonialism - guess which country claimed it! It's the jewel of the Fujian province, Fuzhou ain't shit in comparison! Xiamen has beaches, nice weather, AMAZING Italian and Indian food (not just judging by Chinese standards), a gorgeous botanical garden, a curved road that seemingly floats mid-air above the sea, incredible temples filled with turtles, a cat-themed street, a pedestrianised island called Gulang Yu where no cars are allowed, an art district called Shapowei which reminds me of Shoreditch and has been the source of at least fifteen novelty earrings in my infamous collection AND a pancake shop with a Nutella and peanut butter option. When I was interviewing with York English, I chose Xiamen, not Fuzhou, but there were no places at the time. I was robbed.
8. Yangshuo 阳朔县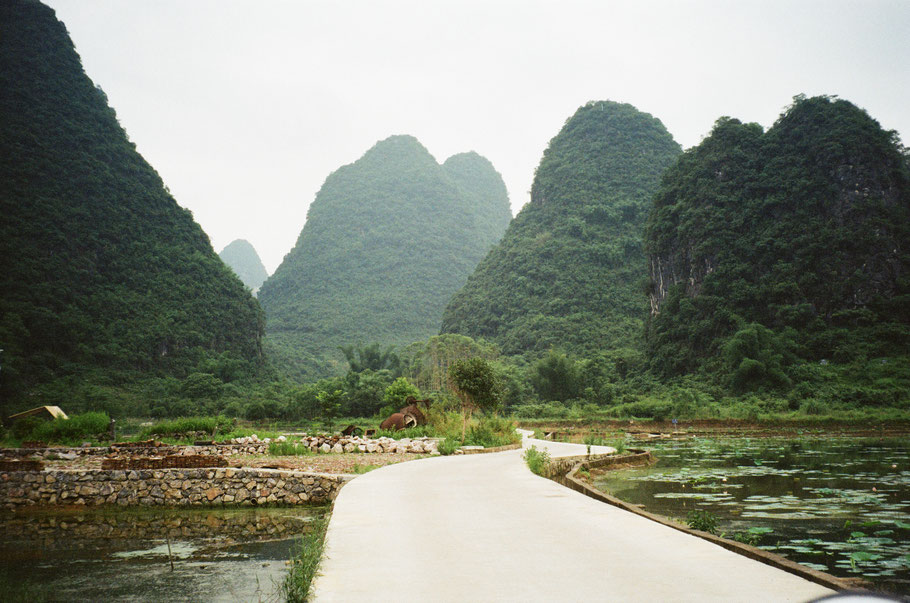 My boyfriend will be pissed when he reads this because just recounting it will get him angry again, I know it. Still suffering the worst period I've ever had (same one from Macau), Tash and I hired e-bikes to ride around the karst-filled Guangxi countryside. I despise and fear and suck at driving and it turned out an e-bike brought out the same emotions in me. My insides were a mess from my body's bloody expulsions, I was tired, starving and now I was burning about 50 calories a minute from the fear I felt being on the e-bike. Tash would say go faster! and I'd say ummmmmmmmm no and grumble about my body letting me down. Bikes had to be returned by 6pm. We decided to climb Moon Hill not knowing how long it would take and worrying about our deadline. I couldn't park my e-bike correctly so Tash shouted at me for being useless (I started to cry then) but helped me and in the process somehow kicked me in the chest, much to the amusement of several old Chinese men, whose reaction made me cry more from embarrassment. We climbed. Inside my body all at once was adrenaline, exhaustion, unstable bowels, exploding womb, empty stomach, embarrassment, anger, frustration and anxiety. We reached the top of Moon Hill and I sobbed for about 10 minutes while we took photos, then we quickly turned around to descend. It's funny in hindsight but I was actually not okay. Menstruation is utterly pointless and I hope women evolve out of it in 50 years' time. Despite everything I've just said, Yangshuo was utterly beautiful, the magical kind of beautiful too. Beautiful enough to be placed so highly on this list in spite of my broken body at the time. 
7. Lijiang 丽江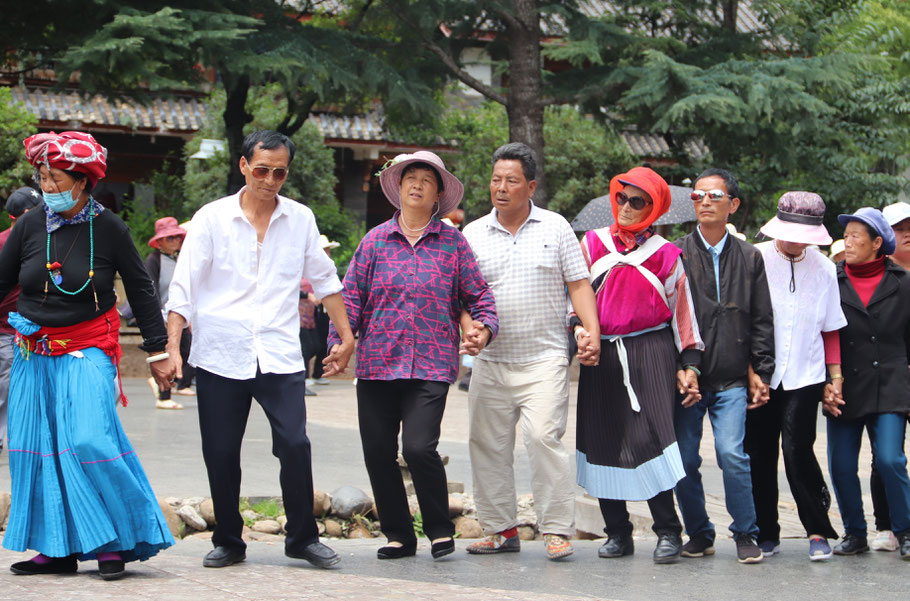 Despite my bad luck in Lijiang (not being able to find my hotel for two hours, arriving to check in and being told that my room was double-booked and I couldn't stay there, bursting into tears and distressing all the staff) I ended up in beautiful accommodation overlooking the dense city, which itself is surrounded by mountains. Fuzhou is also surrounded by mountains but Lijiang was one thousand times prettier. It's one of many gorgeous cities in the Yunnan province (best province!). It's full of ancient (or at least ancient-looking) hotels, homes and shops, many of which are concentrated around the Old Town, which is really just a big beautiful maze. I came across a public square where lots of people were dancing in a huge circle and I stopped to watch and photograph them for maybe an hour. Watching old people live their best lives is incredibly uplifting. I ate spectacular Tibetan food and lamented the fact that I couldn't finish it all. I visited Black Dragon Pool where you can see the snow-topped mountain reflected in the huge lake and met the sweetest girl in China who approached me to try out her English without judgement or fear or disgust or any of the usual emotions I evoke in children here. I will never forget you, Jo from Lijiang!  
6. Beijing 北京市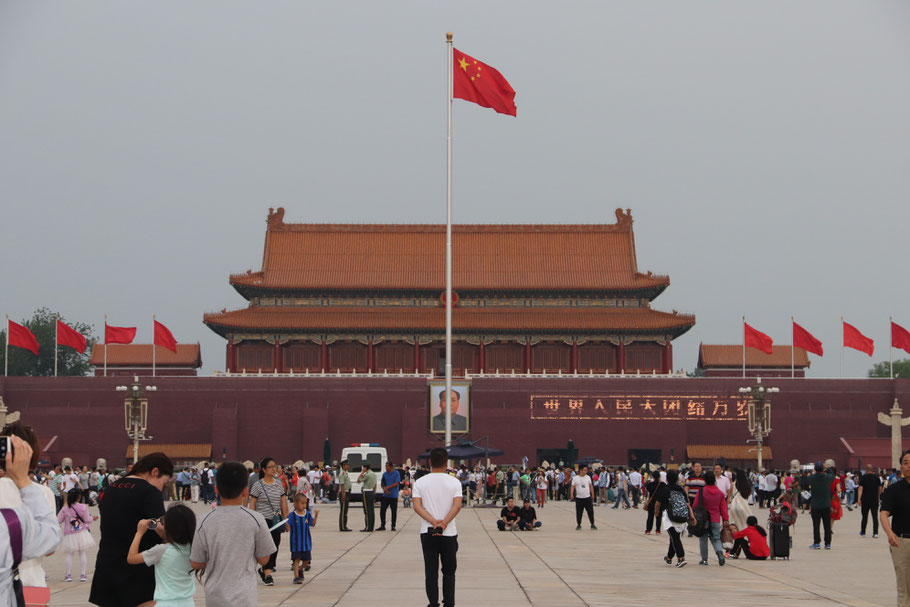 I wasn't sold on the idea of Beijing for the first six months of my time in China. I was thinking: smog and communism. There was definitely smog but not too much. Communism just so happens to be everywhere in China and not much of an experience, so that was fine. What we found was a VERY Chinese capital. You see how London is not at all a reflective insight into British culture? Well, Beijing really is a reflection of Chinese culture, or at least prominent tenets of it. By that I mean a woman working in a shop approached me and stroked my skin because, you know, blacks and the Chinese are totally different species. In an internationally-renowned capital city?! In 2019?! That's what Chinese isolationism has done and it is deplorable, honestly. T-Square (you know the one) was boring but the big picture of Mao was cool and I was intrigued to find five year olds gleefully waving their Chinese flags around. Tash and I ate GLORIOUS Peking duck – like, a whole duck – with the crispy skin and pancakes and cucumber and plum sauce and some beautiful side dishes. One of the best meals of my life. Also had another of the best meals of my life at The Cheesecake Factory (DO NOT JUDGE). We climbed some of the Great Wall at Mutianyu and were nearly scammed twice in the space of six hours (it was the least 'official' tourist spot I've ever visited). The Wall was cool but I always knew it wasn't going to really impress me. The aesthetically perfect Temple of Heaven greatly impressed me though. There is simply nowhere else in the world like Beijing. It was so big we didn't see half the places I would've liked to and I would happily return.
5. Taipei 臺北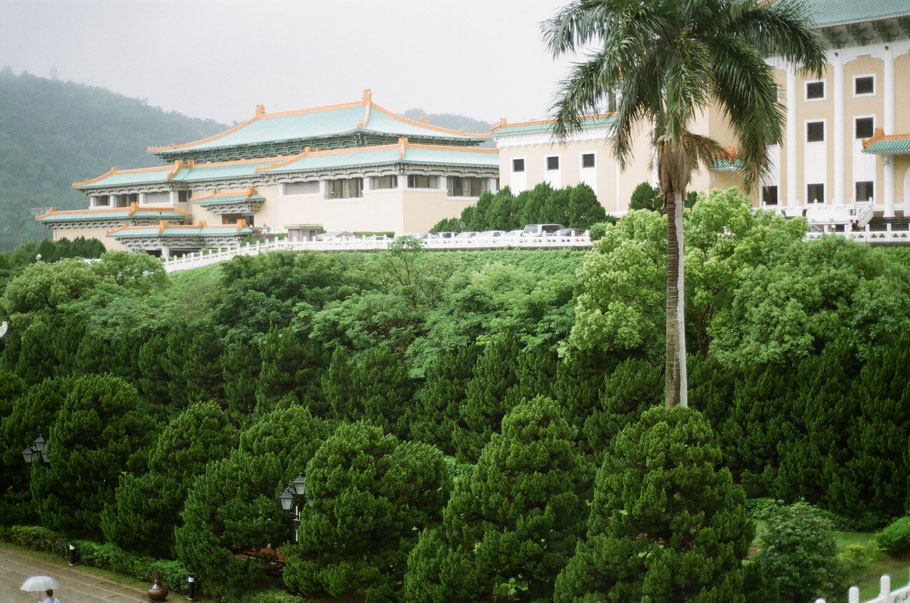 Taipei is wonderful! It is the capital city of Taiwan, an island close to China's Eastern coast. Taiwan is its own country (to most of the world) but to China, it's a wayward province. My eldest students at school named it as one of China's provinces and I was like ummmmmm sure. Taipei is small but full of life, temples, Tokyo-esque arty spaces, cinemas, beef noodle soup, bubble tea and anti-China sentiment. cOntrOVersIAL. It was actually crazy seeing anti-China protestors openly giving out their opinions about the government's alleged organ harvesting of a religious minority. I told people when I returned to China that Taiwan was like a much better version of the PRC. Chinese individuals can now only visit Taiwan as part of a tour group and ONLY if they have a huge amount of rmb in their account first. And a visa. Even though Taipei is an hour and a half flight from Fuzhou. It's insane. Taipei 101, the huge green building that looks like stacked boxes, was gorgeous and so much bigger than I thought it would be. Ximen felt like what I assume Harajuku in Tokyo is like. We visited the big palace which was full of gorgeous Taiwanese artefacts and had royal gardens with ponds full of the fattest koi I've ever seen. The street night markets were filled with heavenly food (I'm talking about bubble waffles). There were way too many cockroaches for my liking but it is Fuzhou humid there so I'll just about allow it. Basically, my friends and I saw how people were living better just two hours from us and we all regretted moving to Fuzhou when we could've been enjoying the best of China alongside precious remnants of western freedom and slightly more diversity.
4. Huangshan 黄山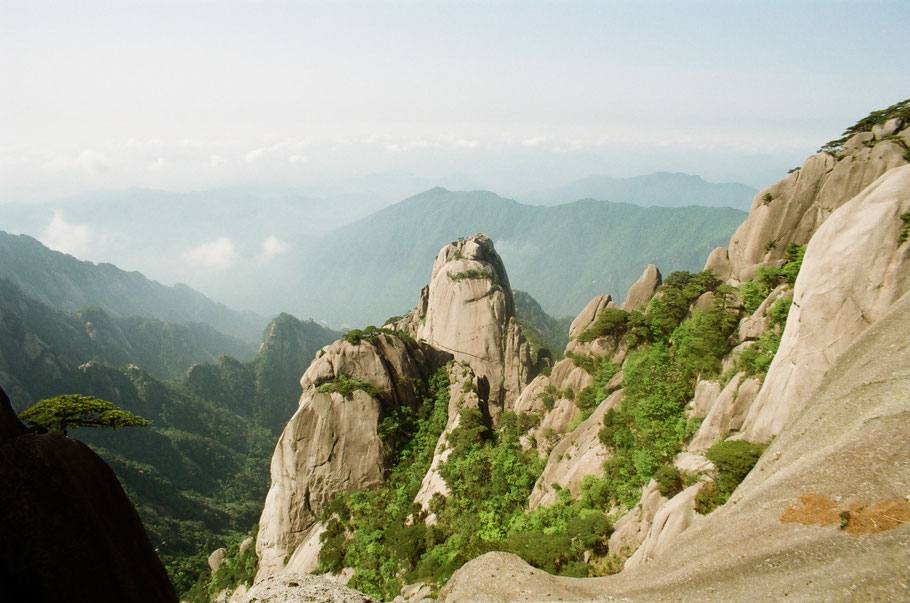 Huangshan is in the Anhui province, kind of near Shanghai. The Fuzhou-Shanghai bullet train is insanely beautiful and makes stops at some of South Eastern China's most stunning natural areas, including Wuyuan, Wuyishan and Huangshan. Huangshan translates to 'Yellow Mountain' in English. I don't know why it was named this but it is truly sublime. I remember learning about the romantics' focus on the sublime back in high school, studying English Literature GCSE. The sublime – a feeling of true satisfaction and awe from immersing yourself in a beautiful natural environment. Well, I felt it in the Yellow Mountains of the Anhui province. My friends and I messed up our first day of hiking as the entire place was huge and complex and required bus travel and different entry points and bla bla bla. We did some walking but didn't get far. Had a photograph-off with an old man who walked right up to us with his smartphone and spent about 5 minutes filming and photographing us. We fought back with our phones and it was just a ridiculous affair. Returned to the hotel and chilled. Next day we got up early to try and beat the crowds a bit, got a cable car to skip out the hardest steepest walking paths (would've taken over 3 hours to climb) and started further ascent towards the top. The views on our ascent were stunning. Then we saw a mountain shaped like a giant penis. Found the clearest bluest skies at the peak as well as undulating BEAUTY in the shape of the mountains and the clouds moving around them. We were literally standing amongst clouds. Spent the rest of the day walking and swatting away smartphones and turning backs on staring eyes. For once though, I couldn't let Chinese tourists get to me, everything around me was too impressive.
3. Longsheng Rice Terraces 龙胜梯田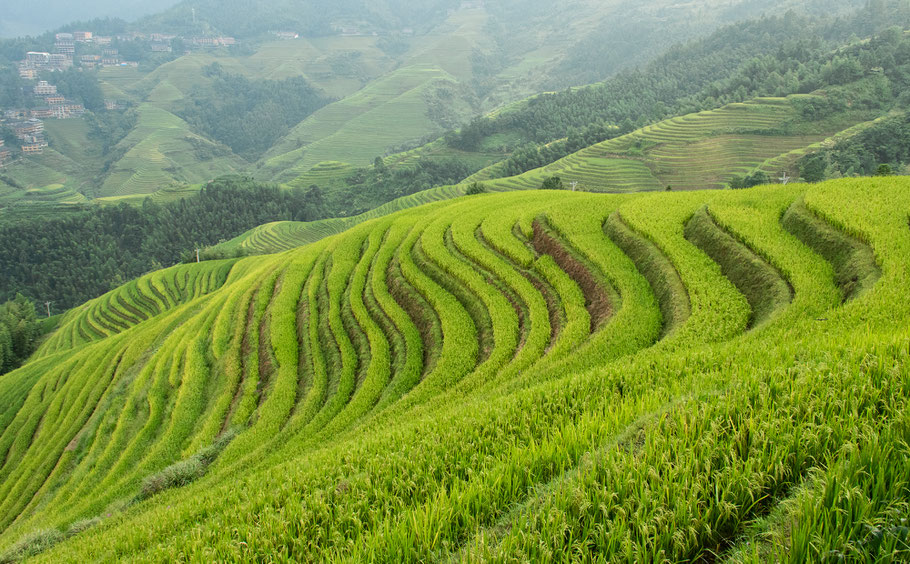 I snuck this little weekend trip in mere weeks before I left China for good and I'm so glad I did. It was tight and I only managed to succeed thanks to a Guilin airport employee who spoke PERFECT English. He told me exactly which buses to get, where to get them from and gave me a great price for everything. Shout out to that guy. This was the second time I passed through Guilin. I got my bus to the rice terraces, took a cable car up to the top, admiring the lush green landscape unfurling itself in front of me. I met a lovely Yao woman (the ethnic group that live there) and had a photoshoot with some sweet old people and started exploring. My goal was to walk to my 'hotel with a panoramic view' which was at one of the highest points of the terraces, using Baidu maps. I couldn't believe how accurate it ended up being. Everything I had for that trip, I carried on my back. Including two cameras and three lenses and a litre water bottle. Standard, for me. I sweated like a pig but met more lovely people, took so many photos and FINALLY, after night had fallen and I had started to panic, ascended to the highest point where my grand hotel looked out over the terraces. The receptionists could not believe I was alone and were very scared for me to set off by myself the next morning, which was adorable. I woke up to watch the sunrise and immediately fell asleep again lol but took my time taking pictures of the morning 'panoramic view' of the green paddies. It was just peaceful and lovely. My eyes felt blessed. As I descended, I met a Romanian man who spoke English and a truly ancient Yao woman who sold me corn on the cob for breakfast. She took the cob out of the boiling water and put it straight in my hands to unwrap the green leaves, which was weird and made me laugh. A man got his big camera out to photograph me eating my corn in this old woman's tiny shack on the rice terraces. Must've been quite a sight. I paid her double for the corn, asked to photograph her and went on my way, taking more photos with the fans on my way down and turning left right up and down to find more beauty everywhere. At the bottom I enjoyed a traditional Yao meal of spicy sausage and rice, which was unbelievably good and I'm so sad I'll never eat it again. Heading home back to Fuzhou that same night, I thanked myself for fulfilling that bucket list desire. 
2. Hong Kong 香港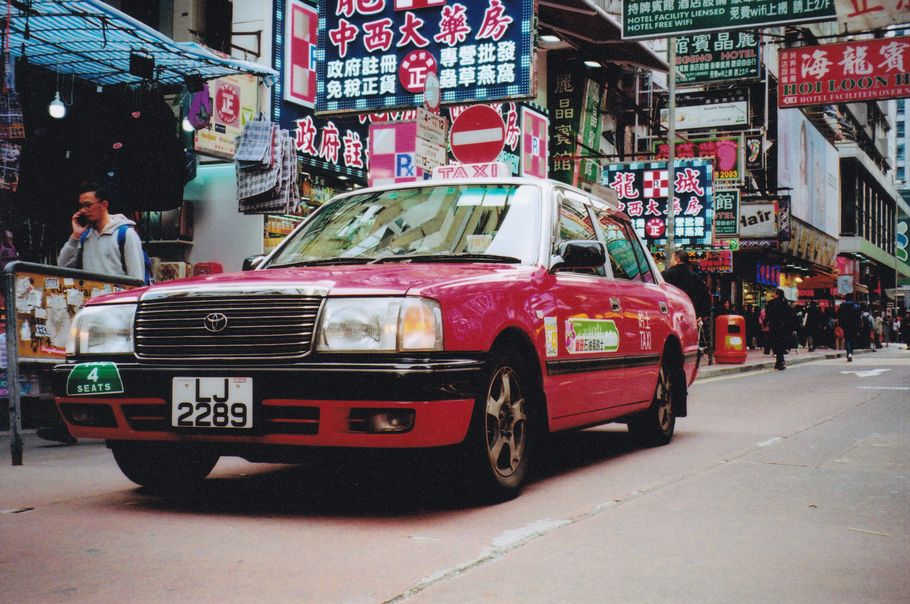 Like Taiwan, Hong Kong is not really China, though Taiwan tends to be better recognised as its own country by the international community. HK, like Macau, is a Special Administrative Region of China. It is partly connected to China by land (it borders Shenzhen) but the rest of it takes the form of islands. Hong Kong is BAE. I visited three times during my year in Asia, once for a visa run, second for New Year's Eve and third with my boyfriend to visit his cousin who lived there. It was only a five-hour train journey from Fuzhou, with one-way tickets costing roughly £30. Bargain! Though it's a tiny place, there is so much to do in the city and beyond. There is lush countryside with hiking trails, shopping, food from everywhere in the world, stunning architecture, many waterfronts and a distinctive melting pot of Eastern and Western cultures. Shark fin restaurants, high rise apartment blocks, mosques, film developing shops, Turkish kebabs (a blessing after so long away from England), a Disneyland, goldfish sold in bags, 24-hour diners selling all-day breakfast and NO ONE STARING AT YOU! It's like London on steroids. Very humid, lots of vermin, too many people but altogether fabulous if you enjoy cities. Visiting Hong Kong made me feel comfortable and normal when China was getting too much for me. Even the protests in June, which Tash and I got caught up in while they were still peaceful, reminded me of democracy and individualism. One protestor came up to Tash and I while they were demonstrating and told us "welcome to Hong Kong", which made me smile. I love Hong Kong through and through.
1. Tiger Leaping Gorge 虎跳峡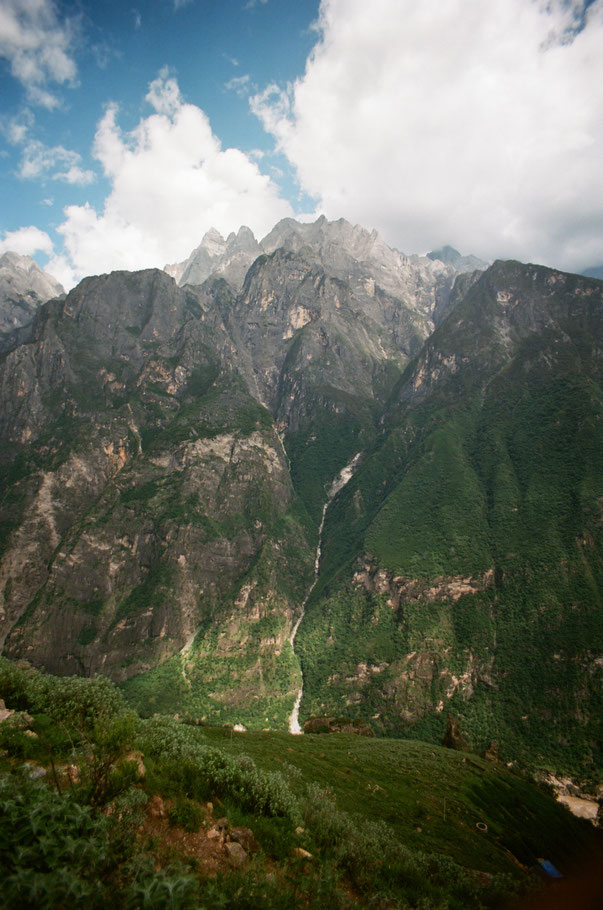 Tiger Leaping Gorge is a huge valley cut through by a roaring snake of water in the North-West of the Yunnan province, relatively close to the Sichuan province. You can walk along the mountain paths which farmers use, looking over at the water to your right the whole time. The paths are tight and I was terrified much of the time but god, the views were just stunning! My walk took me a full 12-hour day. I cheated at the beginning, getting a taxi driver to take me to the first hotel where most people start the walk from, Naxi Guesthouse. I met the loveliest young German couple there, plaited a Chinese woman's hair and enjoyed staying in a mostly empty place run entirely by women. I took the wrong direction the next day and ended up walking towards some remote houses, all of which had guard dogs that barked as ferociously as possible. One got free of its chain and ran up behind me BARKING SO LOUD. My whole body was shaking but I just didn't stop and kept walking at the same pace. It eventually realised I wasn't a threat and turned away but I had to seek help at the next house, using Google Translate to ask the woman there if she would walk me back down past the dog safely. She was the one who told me I was lost and which way to go and it was one of many times in China when people were overwhelmingly nice to me. I cried as I thanked her and said goodbye. I righted myself, sweated like a pig, climbed up steep terrain for over two hours as it approached midday and finally started descending closer to the water. Used a gnarly squat toilet (like a huge rectangle cut of the ground that you hovered above), ate a peng pork noodle soup lunch, enjoyed my stunning view which didn't leave me the entire day and set off again. Ended up racing to reach my final stop, my accommodation for the night, but came up against a lone horse staring me down on a very tight path. I had just crossed a small waterfall with only certain death on the right side of me but turned around and passed it again to avoid the horse. I don't like them and after my previous dog experience, I didn't want to come close to another animal again. I walked back to a hotel I'd previously passed and got a ride to my final stop instead, which was also owned by beautiful women, this time Tibetan, who could speak some English. I love women. I love being around women. I love talking to women. I felt so safe and comforted. I spoke with a Dutch woman for hours about her lone travel experiences and felt great about everything. The next morning I descended to the water itself, at its most ferocious point where the mythical tiger once leapt the gorge, and I crossed a bridge to the where the tiger supposedly landed and felt the rock rumbling underneath me with the force of the water. I ascended again, got my belongings, had one last meal, hopped on a bus, sat next to a girl who offered me food, and said goodbye to the most wonderful place I've ever visited. 
I HAVE TYPED FIVE THOUSAND WORDS! At the very least, I hope you felt some wanderlust reading all of this. Enough wanderlust to make you rethink your preconceptions of China (though some of them certainly are true!), seek out provinces least affected by covid-19, consider buying a travel visa, set aside at least two weeks of next year and purchase flights so you can go experience all of its madness and beauty for yourself. Despite all the horrendous experienced I had in China, I am simply itching to return so I can meet more lovely people and see more stunning sights. It's worth it.